The summer 2008 modular system sleeping bag
The summer 2008 modular system sleeping bag
Product code: 1-SB-sada-let
High-quality summer sleeping bag intended for demanding conditions. Excellent ratio between weight, volume and useful properties.
Product information
The summer 2008 modular system sleeping bag is intended for use in normal temperatures up to about + 3.4 °C and for a short time in cold climates at temperatures up to about -10.0 °C. The summer sleeping bag is part of a modular system, together with the winter sleeping bag it is possible to use both at the same time as a set at temperatures down to -30.0 °C.
Construction
The summer 2008 modular system sleeping bag has a trapezoidal shape, which is widest in the shoulder part, narrowing slightly towards the bottom of the bag. The bag closes on the left side with a high-quality two-way zipper. In the head part, there is a mosquito net that can be fastened with a zipper. There is a zippered pocket in the upper part of the shoulder. Inside the bag, there is a thermal insulation collar sewn into the shoulder area. The bottom of the bag is rectangular in shape and creates an increased space for the feet. The lining of the bag is in the lower part in a reflective orange color for use as an emergency signaling device. The upper part of the lining is khaki. The lower part is equipped with two anti-slip strips. The insulating leg is stitched in such a way that the fabric does not get caught in the zipper when fastening. The fabrics used in the upper part have a hydrophobic treatment and are resistant to surface wetting.
Specifikace
| | |
| --- | --- |
| Hmotnost | 1,8 kg |
| Width | 850 mm |
| Length | 2,25 m |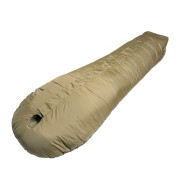 You can find similar products in