Pouch 1xM4 SL II
Product code: 1-PM-130-bk
Product information
Construction
Patented Spring Lock II allows soundless operation.
Works flawlessly in sand, mud, deep snow or water.
After the marksman gets familiar with Slide Lock, manipulation becomes reflexive.
Does not open while crouching.
Features
SNAP GRIP® – Easier opening in gloves, touch identification of pouches with different ammunition.
Tight fit of the magazine, low profile and light weight.
Folded bottom allows water to drain.
Secured by two MOLLE straps with Back-Flip system
Protected by Czech Industrial Patent no. 29598 and 30352.
Specifikace
| | |
| --- | --- |
| Hmotnost | 57.8 g |
| Dimensions | 18,7 x 7,2 x 3,1 cm |
| Material | Cordura |
| Variants | |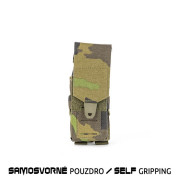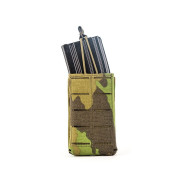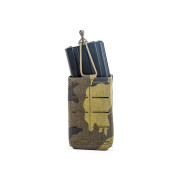 You can find similar products in